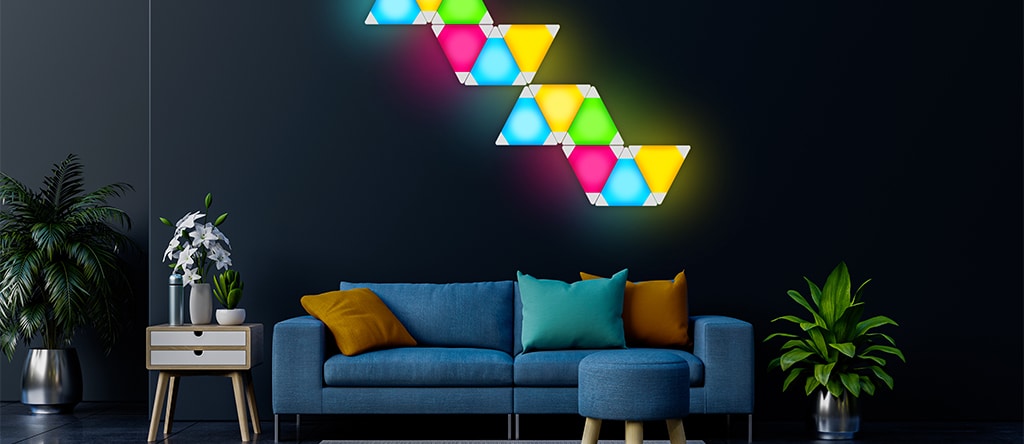 06 Nov

Lego Lights
Lego Lights
aka Kumkum Lights, are one of the best innovations of the AMSIoT and are the smartest lights out in the market. Yes, even the lights are smart now. They will not only communicate with each other but will also do so with your smart phone. Lego Lights are multicolored LED tiles which have the capabilities to not connect to 3 other tiles in a modular fashion, they can generate beautiful and dynamic lights patterns of choice which can match the décor of your room or of any of the event themes.
The best feature about the Lego Lights is that they are programmable and the light tiles can be connected in any number of your choice and their order and shapes can be according to your own preferences as well. Once they have been installed, the Lego Lights can be programmed through a mobile application and the rest is up to your own creativity. There are a number of pre-installed light patterns the users can choose from but the best feature about these lights is that the users can create their own light patterns and colors to suit the décor of their room. These lights have been specifically designed by keeping the creativity of the users in mind so that they may have full control over what kind of lighting décor they want in their bedrooms, lounges or any other space of their homes without having to change the hardware every single time. Kumkum lights provide its users with the flexibility of having a myriad of lighting options all in a single piece of hardware.
Features
Modular Design
Lego Lights are the most flexible and the smartest lights you'll find in the market. The biggest freedom that the Lego Lights offer their users is that they can choose and set the color of each Lego Light separately regardless of the color of entire arrangement of light modules. This can provide the users with the freedom to enhance and enjoy the aesthetics of their indoors and can breathe new life into their décor.
Simple and user-friendly interface of the Lego Lights ensure that you can play with the multiple light colors of your choice easily and with a simple tap without having to physically touch the modules and without having to go through any complicated configurations or settings. All of the features of the Lego Lights are available in one convenient app through which they can be controlled easily to change at your commands and your whims.
Lego Lights also brings several pre-installed light animation patterns with them. From simple color patterns to complicated shapes, these animations can accessed by the users through their mobile app and can easily entertain both the children the adults with its vast array of pre-built light animations. Of course, the users can create their own animations as well but if they want to get an idea of what they can be like, these animations would serve as perfect examples of that.
Ever wished that you had lights that would dance with the music that you're listening to? Well, with the Lego Lights, this is now more than possible. Lego lights also brings the all new Music Synchronization feature in them as well which lets them listen to music and act intensify and soften with every beat of that music. Lego Lights are capable of interacting with almost every song there is out there and will bring a new sense of joy and entertainment to your music.
Google Home & Alexa Support
Google Home and Alexa have also become friends with the Lego Lights and your Kumkum lights will listen to them like a child listening to their parent. You can manage the Lego Lights with both Google Home and Alexa and their every single feature can be controlled with both of these apps as well. if you already have a smart home system in place with Google Home or Alexa, Lego Lights would fit in perfectly in their new environment.
Multiple colored pallets of the Lego Lights ensure that they can fit in and fuse with any of the décor feel of your home effortlessly and allow you to create your own unique light décor inside your home. Now you can charm your friends and family and can show off your creative light décor with a smug smile.
If you are in the mood for a different light every now and then but do not feel like changing the color yourselves, there's no need to worry about that as well. You can do that with just a simple tap on your mobile app. All it would take is a tap on the random color generator and the Lego Lights will obediently keep on surprising you with their vast array of colors. You can just sit back and watch the Lego Lights do its work on its own.
Benefits
The lighting system has always been a boring part of the décor since once they have been installed; they'll stay the same there. Lego Lights bring a new life and a sense of excitement to the whole process. You can modernize the boring lights into something creative and fascinating. It all depends on how creative you can get with them and the Lego Lights will keep up with your creativity all the way.
Almost all of the lights in the market need a physical contact to switch them on but the Lego Lights can be controlled from the comfort of your couch through your mobile app. There's no need for you to get up to turn them on or off.
Unlike other lights of multiple feature which can be pretty power intensive, Lego Lights are fully comprised of LEDs and have very slight hunger of power. They will not only save on your power bills but they can also replace your primary lighting. You can simply use choose the color and light intensity/brightness and the Lego Lights will outshine any other light in your home by keeping the power consumption to a minimal. You can choose how bright Lego Lights need to be as well and can completely replace all the lights in your home.
You can create custom templates, besides the pre-installed ones, with relative ease and switch between them easily with just a simple tap. Not only that, the lighting animations are regularly updated in the app and are always provided to the users free of cost. You can always expect to enjoy a unique lighting experience every time you turn on your Lego Lights.
Use Cases
Lego lights can be used in any way. You can simply put in a straight line or you can create a multitude of patterns and wall designs with them and they will work just as beautifully as they would in a simple pattern. It's all up to your own creativity.
Compatibility
There are no compatibility restrictions with the Lego Lights. All you need for your Lego Lights to work is a stable Wifi connection, a power supply and a Smartphone to configure and control them and they are good to go. These lights are truly a god sent.