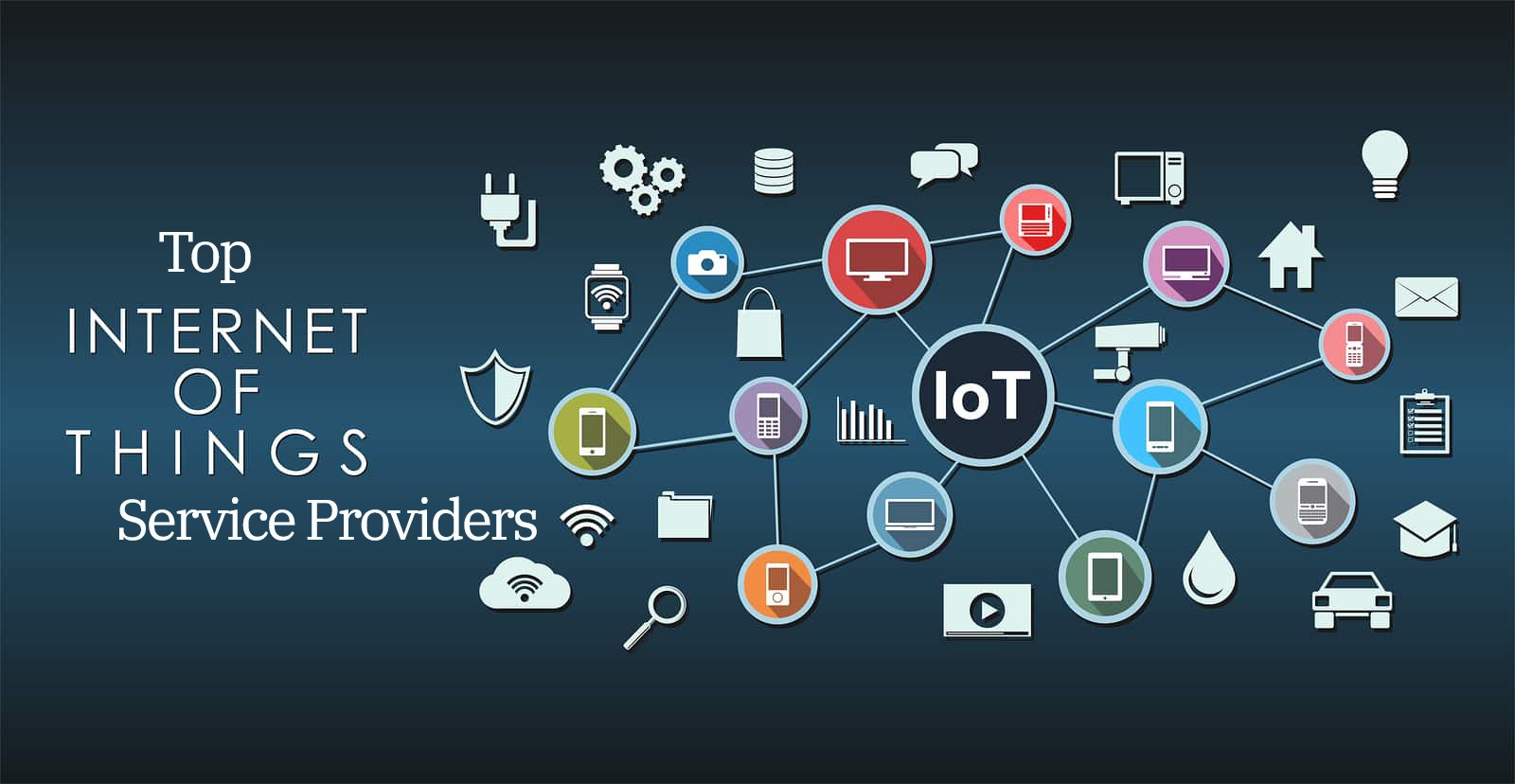 19 Sep

A Comprehensive Guide to Top IoT Service Providers
Top IoT Service Providers: An In-Depth Overview
Top IoT service providers today are a revolutionary force, reshaping the way industries operate and we live. With devices becoming smarter and increasingly interconnected, there is a pressing demand for robust IoT platforms. Several tech giants and specialized providers have stepped up to address this need.
The following breakdown will help you understand some top IoT service providers and their IoT services.
1) Amazon Web Services (AWS)
AWS is the cloud computing juggernaut under Amazon's umbrella. AWS has continually evolved to cater to modern technological demands. It's not surprising that they've marked their territory in the IoT landscape as well.
IoT Offering
Their crown jewel in this space is the AWS IoT Core. This service is not just about connecting devices; it's about making them smarter.
Key Features
Ensures secure and scalable communication.
Integration capabilities with a broad array of AWS services.
Automatic provisioning of device certificates to ensure trusted and verified access.
2) Microsoft Azure
From operating systems to cloud solutions, Microsoft has left no stone unturned. Azure, Microsoft's cloud solution, mirrors this ethos, especially in the IoT arena.
IoT Offering
The Azure IoT Suite is not just another product but a comprehensive ecosystem that binds edge devices to the cloud in harmony.
Key Features
Empowers businesses with advanced analytics capabilities.
Versatile support for diverse OS and devices.
Security is at the forefront, ensuring all data exchanges are protected.
3) Google Cloud
Google has always been at the first row of innovation. When it comes to IoT, Google Cloud ensures it delivers both efficiency and intelligence in its offerings.
IoT Offering
The Google Cloud IoT Core stands out by streamlining the intricate pathways between devices and cloud infrastructure.
Key Features
Boasts unparalleled data processing efficiency.
Smooth integration with other Google Cloud services.
Provides actionable real-time insights to drive business decisions.
4) IBM Watson IoT
IBM, a tech behemoth with a legacy that dates back over a century, brings its rich history of innovation to the IoT arena with the Watson IoT suite.
IoT Offering
Melding the power of IoT with the intelligence of Watson, IBM presents a platform that not only connects but also learns and adapts.
Key Features
Deep Analytics to turn vast amounts of data into actionable insights.
Industry-specific solutions catering to unique requirements.
Seamless integration with Watson AI, allowing devices to make smarter decisions.
5) Cisco IoT
Cisco, a leader in IT and networking, extends its expertise to the IoT sector, focusing primarily on the industrial space.
IoT Offering
Cisco's IoT solutions bridge the gap between information technology (IT) and operational technology (OT), optimizing operations and productivity.
Key Features
Ruggedized hardware suitable for challenging industrial environments.
Advanced security measures, data integrity with protection.
Network management tools tailored for IoT deployments.
6) Oracle IoT
Oracle, renowned for its database solutions, dives into the IoT realm with offerings designed to optimize asset and resource utilization.
IoT Offering
Oracle's IoT Cloud Service aims to provide real-time insights into business operations, ensuring optimal performance and reduced downtime.
Key Features
Fast data analysis, providing almost instantaneous insights.
Scalable solutions according to your business needs.
Integration capabilities with other Oracle enterprise applications.
7) SAP Leonardo IoT
SAP, a titan in the enterprise software space, integrates IoT within its Leonardo digital innovation system, connecting things with people and processes.
IoT Offering
SAP's Leonardo IoT solutions bring digital transformation by integrating IoT data with business processes.
Key Features
End-to-end lifecycle management for IoT devices.
Flexible deployment options, including cloud, on-premise, or hybrid models.
Integration with other SAP services, ensuring coherent and efficient operations.
8) PTC ThingWorx
PTC, a global software company, provides a holistic IoT solution that encapsulates everything from device connectivity to data analytics.
IoT Offering
ThingWorx stands out as a platform that simplifies the complexity of the IoT ecosystem, making it accessible to a broader audience.
Key Features
Rapid application development tools tailored for IoT.
Comprehensive device management functionalities.
Augmented reality (AR) capabilities for enhanced user experiences.
9) Sierra Wireless
A global leader in IoT solutions, Sierra Wireless focuses on bridging the gap between people, machines, and applications with a comprehensive suite of hardware and software solutions.
IoT Offering
Sierra's IoT services encompass modules, gateways, and cloud solutions that foster innovation and productivity across industries.
Key Features
Scalable cloud platform that supports rapid deployment.
Versatile IoT modules tailored for various use cases.
Global coverage with Sierra support in over 190 countries.
Global coverage with Sierra support in over 190 countries.
10) Bosch IoT Suite
Bosch, a household name in appliances and industrial equipment, extends its reach into the digital realm with tailored IoT solutions.
IoT Offering
The Bosch IoT Suite offers services for developing applications in sectors like smart homes, smart cities, and connected industries.
Key Features
Device management and connectivity across diverse protocols.
Cloud services that ensure scalability and reliability.
Rich analytics tools to derive meaningful insights from complex data.
11) Arm Pelion IoT Platform
Arm, the cornerstone of mobile device architecture, brings its tech prowess to the IoT domain with the Pelion platform.
IoT Offering
Pelion delivers end-to-end IoT connectivity, ensuring devices operate cohesively and securely.
Key Features
Unified device management for seamless operations.
Data management tools for insightful analytics.
Global reach with a network spanning billions of devices.
12) Particle
Particle stands out in the IoT space with its integrated approach, offering both hardware and software tools tailored for the IoT ecosystem.
IoT Offering
Particle's platform allows innovators and businesses to build, connect, and manage their IoT deployments effortlessly.
Key Features
End-to-end encryption for enhanced security.
Integrated tools for device diagnostics and OTA updates.
Ecosystem compatibility with popular platforms like Google Cloud and Microsoft Azure.
13) Losant
An enterprise-focused IoT platform, Losant empowers developers to create complex real-time connected solutions with ease.
IoT Offering
Losant's platform emphasizes developer experience, ensuring complex IoT deployments become more accessible and manageable.
Key Features
Visual workflow engine for streamlined development.
Multi-protocol support to connect a wide range of devices.
Real-time data streaming for instantaneous insight.
14) GE Predix
General Electric (GE) brings industrial expertise to the IoT landscape with Predix, a platform tailored for industrial IoT applications.
IoT Offering
Predix is designed to handle the complexities of industrial data, turning machine insights into actionable results.
Key Features
Edge-to-cloud integration for seamless data flow.
Asset performance management to optimize industrial operations.
Security-first architecture to protect critical infrastructure.
15) Ayla Networks
Ayla focuses on bridging the consumer and enterprise markets with IoT solutions that transform business models and enhance user experiences.
IoT Offering
Ayla's platform offers agility in creating IoT solutions that resonate with modern-day consumers and businesses.
Key Features
Flexible device connectivity options.
Cloud-based services for scalable IoT operations.
Data orchestration and analytics to drive smart decisions.
To summarize the above information, here is a comparison table representing top IoT service providers, IoT service and their key features.
Comparison Table
| | | |
| --- | --- | --- |
| Top IoT Service Providers | IoT Service | Key Features |
| Amazon AWS | AWS IoT Core | Secure communication, AWS integration, automatic certification |
| Microsoft Azure | Azure IoT Suite | Advanced analytics, multi-device support, robust security |
| Google Cloud | Google Cloud IoT Core | Data processing efficiency, GCP integration, real-time insights |
| IBM Watson IoT | IBM Watson IoT Platform | Deep Analytics, Industry-specific solutions, Watson AI integration |
| Cisco IoT | Cisco IoT Solutions | Ruggedized hardware, advanced security, network management tools |
| Oracle IoT | Oracle IoT Cloud Service | Fast data analysis, scalable solutions, Oracle applications integration |
| SAP Leonardo IoT | SAP Leonardo IoT | End-to-end lifecycle management, flexible deployment, SAP services integration |
| PTC ThingWorx | ThingWorx Platform | Rapid application development, comprehensive device management, AR capabilities |
| Sierra Wireless | Sierra IoT Solutions | Scalable cloud platform, versatile IoT modules, global coverage |
| Bosch IoT Suite | Bosch IoT Suite | Device management, cloud services, rich analytics tools |
| Arm Pelion IoT | Pelion IoT Platform | Unified device management, data management tools, global reach |
| Particle | Particle IoT Platform | End-to-end encryption, integrated tools, ecosystem compatibility |
| Losant | Losant IoT Platform | Visual workflow engine, multi-protocol support, real-time data streaming |
| GE Predix | Predix Industrial IoT | Edge-to-cloud integration, asset performance management, security-first architecture |
| Ayla Networks | Ayla IoT Platform | Flexible device connectivity, cloud-based services, data orchestration and analytics |
This table provides a snapshot comparison of top IoT service providers, and their primary service and key offerings.
Conclusion
As the digital fabric of our world becomes increasingly interwoven, selecting the right IoT service provider is pivotal. Whether you're a business seeking to optimize operations or an innovator aiming to disrupt, understanding these providers' offerings can be the cornerstone of your IoT journey. As the horizon of IoT expands, staying updated and making informed decisions will be the key to navigating its vast landscape successfully.